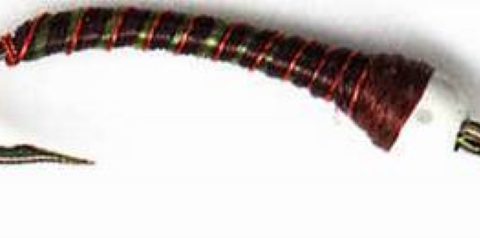 Ice Cream Cone
ICE CREAM CONE – CANDY CANE
SUBMITTED BY: Ruben Breitkreutz
Fly Tied and Photo taken by Ruben Breitkreutz
This pattern was tied in Brian Chan's seminar at the outdoor show. Try using this pattern in lakes that have big chironomids in it. (Tunkwa, Scuitto, Cambell, Dragon, and so on ) 

FISHING METHOD: Floating line with 10 -18 Ft leader. Use a strike indicator to help keep your fly at the feeding depth. Use a slow retrieve (6 – 8 seconds for each hand twist) with a couple 2 – 3 inch pulls every 25 – 30 seconds. You can also use a sinking line. Cast out and let your line sink straight down. Use the same retrieve as above.
 Hook

 Teck Twin DFC200 size 10

 Thread

 8/0 Burgundy or Maroon

 Bead

 White metal bead (1/8 inch-small)

 Ribbing

 Red fine copper wire (5 -7 wraps)

 Body

 Caddis green & Maroon  super floss 

(one of each)
TYING NOTES:  

First  pinch your barb down, slide bead on the hook. 

Tie in the ribbing   material the length of the hook. 

Tie in the 1 green and 1 maroon strand of super floss. 

Wrap your thread forward, building a tapered body to the bead. 

Wrap both pieces of super floss forward at the same time. 

Tie off with several wraps of thread at the back of the bead. 

Wrap two turns of ribbing at the butt of the fly, then rib forward in the same direction as the floss (5 – 7 wraps). 

Tie off behind the back 1/3 of the bead. 

Whip finish the fly. 

Try this pattern in green / brown and dark burgundy.